MitraStar asks itself to be a strict compliance supplier concerning European Union environmental directives, "Waste Electrical and Electronic Equipment Directive (WEEE)", "Restriction of Hazardous Substances Directive (RoHS)" and "Energy-Consuming Products, Eco-Design Directive (EuP)".
At the same time, in order to fully implement green business management, MitraStar has built a "green cooperative information system" to control each stage from the suppliers of raw materials, production, manufacturing, transport, to usage and disposal to insure all meet green requirements in every aspect.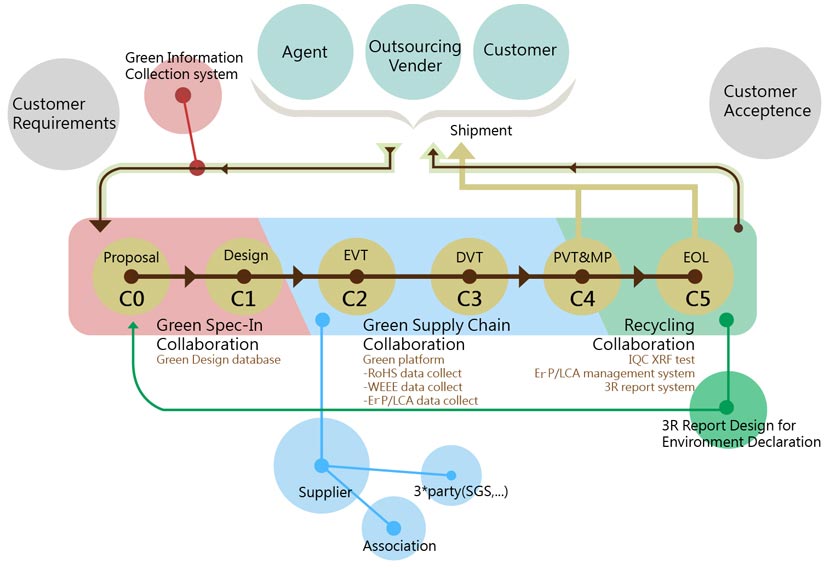 Green Collaboration System
Through use of the "Coordinated Information System", "Green Product Database", "Life Cycle Analysis System", "3R and disassembly Report Database" and "Restriction of Hazardous Substances Management System", MitraStar aggressively controls its environmental impact in the entire lifecycle of all of its products, in its commitment, and in its responsibility as a corporate citizen in developing a low-toxic, waste-reducing, easily recyclable and energy-efficient product.
With establishment of the "Information Management System for Green Product Collaborative Operations", MitraStar becomes the first in the industry to implement many green development initiatives.