MitraStar devotes itself to supply chain management in delivering the shipment efficiently, while also providing the customer with the competency of on time to market. By extensively consolidating logistic management and an advanced information system, MitraStar co-works with suppliers closely to achieve effectiveness and efficiency in the supply chain.
MitraStar adapts an advanced information system, which includes an ordering system and procurement system, to provide both interfaces to customers and suppliers, to fulfill customers' requirements for material purchasing and product delivery. This seamless communication among customers, suppliers and MitraStar contributes to a satisfying, long-term partnership in business.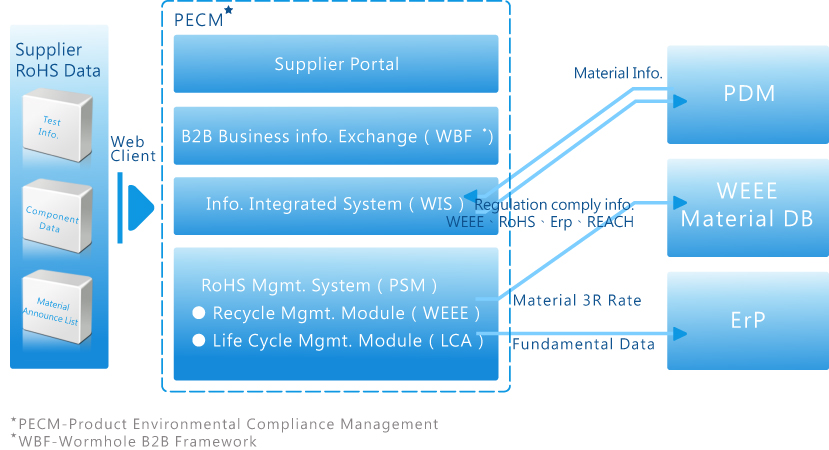 Green Supply Chain Platform
The "Green Collaborative Information System" consists of three parts:
1. Green Product Design Stage
Green Parts and Design Database:Through the establishment of this database, we include energy efficiency, waste reduction, weight loss, detoxification and easily recyclable parts into product design.
EuP LCA Management System:We meet the "Eco-Directive" (EuP) at the beginning of product design for a product's life cycle assessment (LCA).
3R & Dismantling Reports: We take the recovery phase of the products by 3R (Reuse, Recycle and Recovery) and the dismantling process into product design considerations.
2. Green Supply Chain Management Platform of Suppliers
Suppliers have to meet MitraStar's WEEE、RoHS、ErP、REACH related requirements and upload information to the "Green Supply Chain Management Platform". Then, MitraStar monitors all suppliers' green quality to provide environmentally friendly products to our customers. MitraStar Conflict Minerals Statement
3. Payback Period of Green Products
To generate "3R & Dismantling Reports" for product recovery and to set the goals for it. Besides,MitraStar provides a "Design for Environmental Declaration", and establishes complete recovery management. We have also established "WEEE Registration Monitoring and Management Platform," to manage our products' status for the environmental authorities of each country.