Quality Policy:

" Provide innovative design, manufacturing and services to ensure customer satisfaction with high-quality, cost-effective and time-to-market products and services. "

The quality management system based on ISO principles:
The eight ISO principles
Customer focus: a business organization relies on customers to survive. We need to understand the current and future needs of customers and exceed their expectations.
Leadership: leaders need to sketch a common target and direction leading to it, and to provide an environment that accommodates people's efforts for achieving the goal.
Involvement of people: organizations consist of people, and their full participation can generate the best interest for the organization and everyone in it.
Process approach: fuse management of resource and activities into the process to achieve the results with better efficiency.
System approach to management: distinguish, understand and manage the processes to effectively reach targets designated by the organization.
Continuous improvement: keep the organization moving towards this perpetual objective.
Factual approach to decision making: always ensure decisions are based on established and analyzed information.
Mutually beneficial supplier relationships: create partnerships with mutual objectives.
MitraStar always provides innovative design and manufacturing services according to the concept of continuous improvement in quality management, with focus on R&D, manufacturing, suppliers and customers, in order to delivery high quality and cost-effective products to customers on time.
The quality management system is built according to ISO (International Organization for Standardization). MitraStar developed the quality management system based on ISO9000 and TL9000.
A complete information platform to help in quality management:
MitraStar has a complete information platform to help us work with the collection of quality information.
Make management decisions based on facts:
MitraStar uses a variety of statistical methods to find out valuable information, and uses sampling to reduce resource consumption. In product development, MitraStar uses reliability analysis to estimate the product life and uses it as a product warranty reference. In the production process, MitraStar uses control charts to control the important process parameters.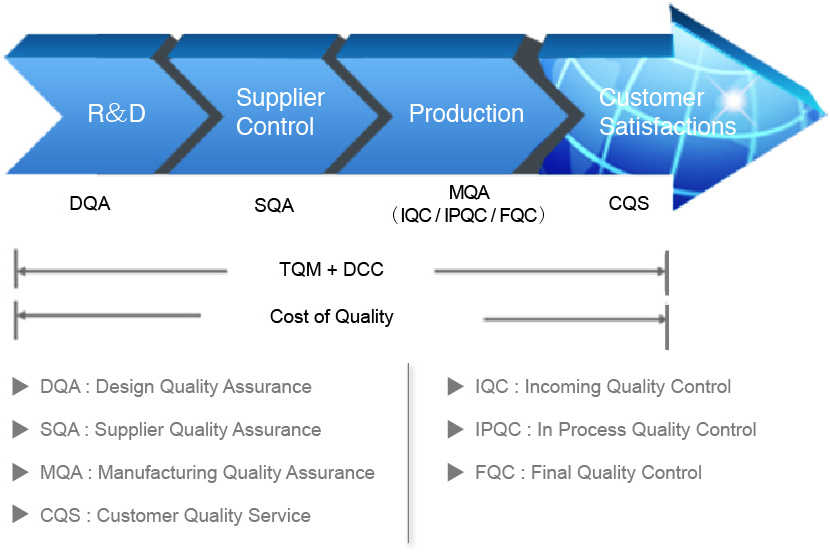 Quality Management System
The management and appraisal of the supplier quality:
In addition to a supplier survey, evaluation and scheduled/random audits, the key points of MitraStar supplier management also include setting up a supplier quality agreement and making regular supplier appraisals. In the management of supplier daily operations, MitraStar also puts a lot of effort into IQC's incoming inspection, unusual materials management and site audits of suppliers. Meanwhile, in order to more effectively manage supplier quality, MitraStar built a cross-unit supplier management committee which consists of purchasing, quality assurance, parts recognition, and reliability verification departments, to advise and manage suppliers.
MitraStar keeps reviewing and improving by following the PDCA (plan–do–check–act) process to provide high-quality products all over the world.