Protecting the health of its employees and the environment is MitraStar's genuine commitment. In addition to observing all government regulations and enforcing policies relevant to the environment, HSF and safety, MitraStar also works continuously on environmental and safety management on a daily basis.
With certification of ISO 14001, TOSHMS and OHSAS18001 Management Systems and Greenhouse Gas (GHG) ISO14064 Verification, MitraStar systematically facilitates and integrates management processes for quality, environment and occupational safety following the PDCA Standards for a holistic and effective infrastructure of constant improvements.
Environmental, Safety & Health Policy
By way of defining and publicizing the environment and safety-related policies, MitraStar expresses its intention to take environment and safety issues into consideration in every aspect. It observes all government regulations and enforcing policies relevant to the environment, HSF and safety. It requires all employees to comply with the terms listed in the environment and HSF manual.
Environment, Safety and Hygiene Risk Management
MitraStar keeps improving its production line equipment to conform to international ecology standards. In fact, the vision of MitraStar has evolved from an early "regulation-savvy" to "green enterprise as a whole", as it is today.
In terms of the manufacturing processes, preventive measures, such as the safety design of machinery, operating procedures, training, automatic inspection, safety auditing, management of chemicals, environmental assessment, employee health check and management, protective gears and management of high-precision operations are taken on a daily basis to ensure a comfortable, safe and worry-free working environment for employees.
Safety and Hygiene Trainings for Employees and the Management
On-job safety- and hygiene-related training courses arranged for work floor employees and the management.
New recruits and transferred employees must receive mandatory safety and hygiene training courses.
The management receives the Business Continuity Plan training, which emphasizes on how to prevent the manufacturing from being shut down due to personnel casualty or equipment breakdown.
Risk Assessment and Emergency Responses
The "Safety and Hygiene Appraisal, Assessment and Management Procedures" and "Emergency Response Procedures" are updated annually, and all employees are required to exercise.
Local fire extinguishing, emergency reporting and personnel evacuation drills are performed every six months, while full-scale fire and chemical leakage drills are performed annually.
Emergency response teams are formed for day and night shifts respectively. The teams are divided into functional groups such as Reporting, Fire Extinguishing, Evacuation Assistance, Safety Assurance and First Aid.
Realistic exercises and drills are performed periodically.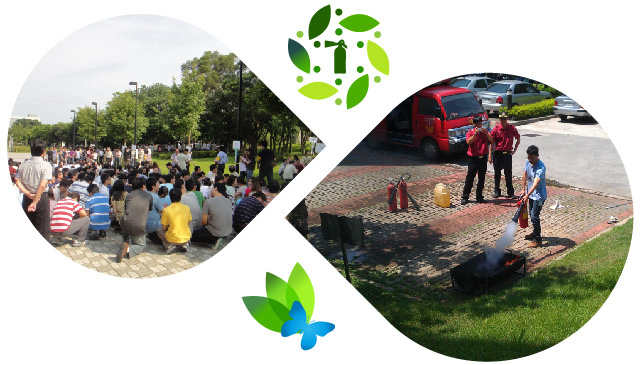 Safety and Hygiene Trainings