MitraStar Green Supply Chain Development Stage
First Stage: Regulations Compliance
Target: WEEE, RoHS (ISO 14021), Battery, PPM, EuP
Second Stage: Regulations Exceed
Target: Green IT System, GPNS, (IECQ QC080000)
Third Stage: ECO-efficiency
Target: PCR, EPD(ISO 14025), GHG(ISO 14054), PFOS, REACH
Fourth Stage: Sustainable Development
Target: CSR, CDP, CFP(ISO 14057), Green Design(ISO 14062)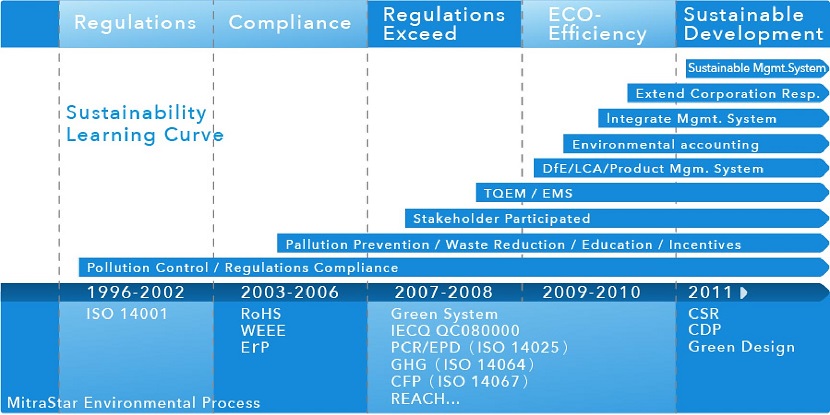 Environmental System History
Green Supply Chain
The "Green Supplier Auditing Procedures" require suppliers to verify their carbon footprints. The auditing procedures provide a rating standard and a rating form to categorize the suppliers, so the procurement units can make decisions based on the status and auditing frequency of the suppliers. A database with "Green Parts" has also been established to recognize a green supply chain and to integrate with ERP and Data Management Systems to generate technical documents and ensure conformity to carbon emission regulations.
Green Management Platform
To assist its suppliers in introducing the "Green Procedures of Management Operations", MitraStar demands that all parties communicate through an online platform in order to acquire information from inspection and testing reports. The platform becomes an important source of pollution and toxic-free components for procurement units to look for concerning qualified parts and their suppliers.
Green System Management
In order to achieve green auditing while reducing the risk caused by insufficient personnel and experience, MitraStar's green management system comes with a supplier management feature that significantly reduces the expense on component inspection and improves the control over green materials delivered by qualified suppliers.
Green Procurement
MitraStar demands its suppliers to upload the information required by the WEEE, RoHS and EuP regulations for better management of green components. The platform works as follows:
Green Supplier Auditing
MitraStar constantly performs auditing procedures on major component suppliers and contractors to confirm their ability, while the GP Auditing Team helps these external partners to produce green products as well.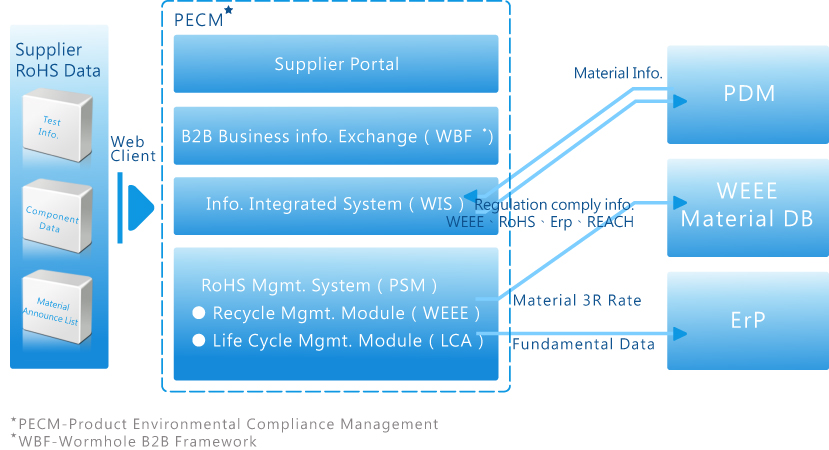 Green Supply Chain Platform